Here's an excerpt from the end of Privateer 2 where we see the player (and others) escape Kronos' doomed flagship. Unfortunately only the published 320x200 version survives so it can be hard to see some of the neat details. Let's try and identify the ships!
Since the player can choose from 18 different ships there was no way to know which they'd actually fly the last mission in. To hedge bets, the escaping fleet includes four of the most likely options. First out is a Drakkar!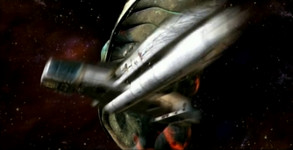 But even more exciting than ships you know is ships you don't! Neither of these Kindred shuttles (?) appears anywhere else in the game. They're similar designs but one seems to have two hull segments to the other's one. I wish we could see more detail! CIC Holovids section.