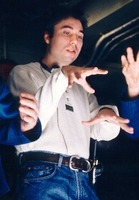 Paul Dean has posted a "lost" interview that he conducted with Chris Roberts back in 2013. It's a fantastic and in-depth conversation about Mr. Roberts' history getting into games, his thoughts on early Wing Commander development and what he's doing now (then). The piece was originally intended to be part of a larger profile, which ended up not working out. But the interview is still great, so I'm glad it was posted! You can find it in full here.
CR: I remember when we did the mission packs for Wing Commander. It all came out of the fact that when I made the game, I had all these assets created and I didn't have enough disc space for some of the ships so I basically had to shelve them. They were sitting around and Wing Commander was doing so well. It was going to take a while to do the next one. Everyone's like, "Well, what can we do in the meantime? Everyone loves this."

I said, "I used to play D&D, they had this little campaign modules that you would get. Why don't we do something like that?"

Everyone was like, "Ooh, I don't know if that would work!"

We would have to put a disc in a game and in a box and get it to retail and we couldn't charge full price for a game. I'm like, "Well we could maybe add $20, the cost of one of those D&D modules. Let's try that out".

We had this big debate. The marketing and sales guys weren't sure whether the retail guys would want it. We said, "Ah, what the hell, we'll give it a try" and we thought we'd sell 10,000 copies which wouldn't be bad back in those days. We sold, I think, about half a million copies of the first couple of mission discs on Wing Commander. It's amazing for back then, because just selling 100,000 units of anything was a huge deal.