The Los Angeles College of Music will be hosting a live stream with Wing Commander composer George Oldziey on July 31. The event will be at 4 pm Pacific / 7 pm Eastern via the LACM Facebook page. George is part of the school's faculty teaching the next generation of artists. This sounds like it'll be a fantastic discussion, so we're eager to see how it goes!
FRIDAY - we will be going live with Composing For Visual Media Faculty GEORGE OLDZIEY, who will be giving you a behind-the-scenes look into his creative process for film scoring and orchestration! George is an award-winning composer and orchestrator who has worked on films such as 'Sin City' and 'Kill Bill Vol. 2,' and he has also scored video games such as 'Wing Commander' and 'Ultima Ascension.' This is your chance to learn all about composing and orchestrating from an industry professional!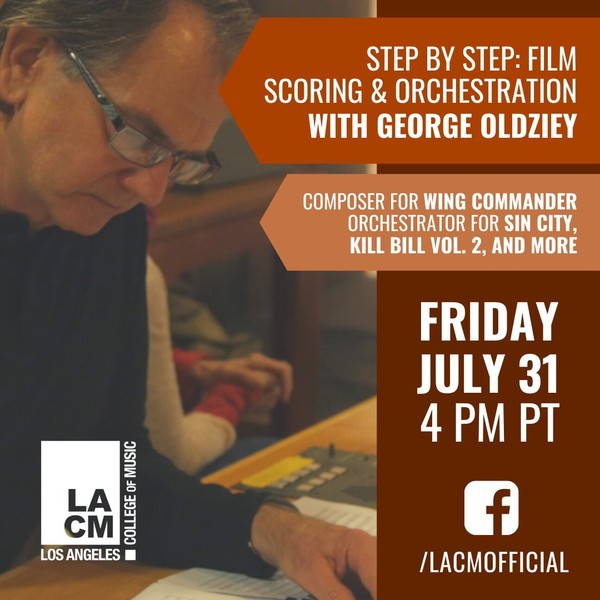 An award winning composer, George joined the ranks of Electronic Arts in 1994 as an in house composer. While at EA he composed the scores for some of the most iconic video game titles in the industry; Wing Commander3, Wing Commander 4, Wing Commander; Prophecy and Ultima Ascension. His other video game music credits include Spongebob Squarepants for Playstation 2, a full orchestral score for the online game Shaiya (Sha-EE-yah), as well as scores for THQ's Red Faction; Guerilla and Certain Affinity's Crimson Alliance.

George has worked with film director Robert Rodriguez since 2002 for whom his music department and composer credits include Spy Kids 2, Spy Kids 3D, Once Upon a Time in Mexico, Kill Bill Vol.2, Sin City, Grindhouse – Planet Terror, The Adventures of Sharkboy and Lavagirl, Shorts, Sin City/ A Dame to Kill For, and the Dusk til Dawn TV series. He has also scored many award winning documentaries, some of which have appeared on the History and Discovery channels.

George holds a Bachelors Degree in Trumpet Performance from Manhattan School of Music and a Masters Degree in Composition from Texas State University.