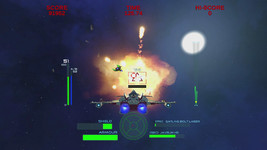 Centaurianmudpig has released a new look at his space sim project, and it's come a very long way since we saw it last year. The game has a new art style and a new name, Absolute Territory. There's also a neat behind-the-scenes look at the mission editor. The mudpig's looking for some Wing Commander fans to try the new playable alpha out and provide feedback. Grab it from ModDB or Steam Workshop and let him know what you think!
WE WANT YOU in the Imperial Space Force (ISF). Join us in protecting our borders from foreign and domestic opponents. Only in the ISF will you fly state-of-the-art space superiority fighters to protect the heavens with fortitude, skill and precision.

Become the best of the best by training in our Digitum XR Sim, our most advanced simulated combat environment. Adapt to the rigours of being a pilot in the ISF, learn the art of combat, and master every fighter and every weapon at your disposal.

Challenge your piloting skills by creating your own missions. Develop unique scenarios envisioned from your imagination. You decide the difficulty by adjusting the environment and opponents. Fight with the most devastating weapons against lighter opponents or truly test your skills against-all-odds.

1st and 3rd person space combat action.
Create your own missions with an easy to use and robust mission editor.
Fly multiple ships and configure their loadouts for optimum effect.
Improve your combat skills against waves of increasingly difficult opponents.
Or take up the ultimate challenge of flying the gauntlet against increasingly difficult opponents.