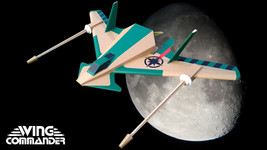 AircPirateNinsei's flying flying Hornet model continues to impress. The recent laser cannon additions are complete, and plans for people to build their own have been posted alongside the rest of the design instructions. Even with the cannons in place, the fighter can maintain amazingly stable flight, pull off acrobatic maneuvers and even land smoothly! It also gets some serious altitude. You can continue to follow development over at the Flite Test Forums.
The build plan for the laser cannons is finished and ready for download! It contains two templates to prepare the wing so that the laser cannons can be retrofitted. The laser cannons are also very stable. Unfortunately I didn't have a carbon fiber tube anymore, that would have been even better. The Hornet also flies with laser cannons, rolls, loops and lands without damage!

The Hornet is our contribution to the 2019 Flite Test Forum & Flite Fest Community Fantasy Aircraft Design & Build Challenge.