George Oldziey reports that the Wing Commander Jazz Albums have been shipped! If you haven't sent your address in - or you don't receive yours in a week or so, let George know what's up! The cover art by SabreAce just looks fantastic. Some of the initial plans for a future campaign to record even more Wing Commander music are in the very preliminary stages, so stay tuned in the coming months for that. It's been a long road to get all of this amazing music put together, but the results have been very impressive!
Greetings all! All the CDs for which I have received shipping instructions have been shipped. I sent off the last of them today, mostly overseas. So if you have not received them in a week or so let me know. Most of you should have already received them. I hope you are enjoying them!

I'll keep you all posted on when the next phase of Volume 2 orchestral recording begins.

Thank you for your patience, as well as your wonderful support!

Musically yours,

George
Here's a fun compilation collage of both physical albums by Pete Andrew: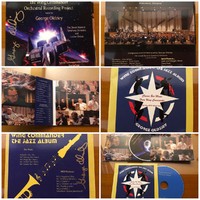 Finally in my hands!!! I've listened to this music from the Wing Commander games since I was a child and now, thanks to Master Oldziey's great job, I'll be able to do it better... much much better!