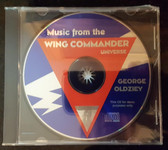 George Oldziey's Wing Commander Orchestral Recording Volume 2 Kickstarter is off to a great start, raising over 10% of its goal in the first 24 hours! That's a good sign, meaning it hit one of the key markers KickStarter forecasters use to judge the health of projects. Now it's our turn to help spread the word and help inform Wing Commander fans about this opportunity.
To start, we thought we'd provide a little history for one of the reward tiers. For $600, Mr. Oldziey promises to include a 'Music from the Wing Commander Universe' CD, with a total of just four available. But what IS Music from the Wing Commander Universe? The answer is that it's one of the rarest Wing Commander soundtrack CDs in the world and a real treat for hardcore Wing Commander and Ultima collectors.
Music from the Wing Commander Universe is an industry promotional item which dates to 1998, when George Oldziey was working with Daylight Productions. Daylight Productions was a company founded by Wing Commander producer Mark Day. Daylight was involved in some of the earliest DVD-ROM games and was responsible for the superb 'high resolution' DVD ports of Wing Commander IV and Prophecy to the format.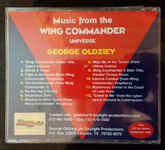 The CD itself includes twelve tracks which include both highlights and rarities from Mr. Oldziey's career at Origin. Six come directly from Wing Commander games (Main Title, Kilrathi Throne Room from Wing Commander III, Main Title, Space Ambush and The Borderworlds from Wing Commander IV and Intense Combat, Fight to the Finish and Mission to Alien Space from Wing Commander Prophecy.) Two are from Ultima games: the Ultima 9 Trailer music and Meet Me at the Tavern from Ultima Online. The remaining tracks are genuine rarities, including music for the Wing Commander Hazardous Duty pitch, a track written for Chris Roberts' unfinished Silverheart game and an original song for a cyber-opera called Honoria in Cyberspazie.
From a collector's standpoint, Wing Commander and Ultima music doesn't get much rarer. Even the fabled 'Origin Audio CD Vol. 1' has come up for auction more frequently than Music from the Wing Commander Universe. George Oldziey informs us that these are the last four copies he owns… so if you have the means, pick one up to help make this project possible!
You can follow the Wing Commander Orchestral Recording Volume 2 Kickstarter here.