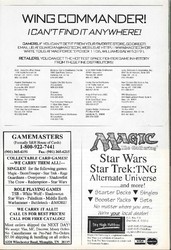 There's plenty of room for debate about the coolest Wing Commander print advertisement: that first image of a Hornet cockpit, Seether hidden in the shadows behind Blair and Tolwyn, the Nephilim fleet massing in a centerfold, the Dragon-as-a-car-advertisement... the list could go on! Today, however, we would like to introduce you to what is unquestionably the most simple Wing Commander advertisement. This monochromatic affair was printed by Mag Force 7, developers of the Wing Commander CCG, in mid-1996 in specialty magazines (the page in question comes from the May 1996 issue of Inquest, then a leading CCG periodical alongside competitor Scrye.) It is, quite literally, a block of text telling you where and how you can buy the Wing Commander CCG with absolutely no attempt to explain how cool the game is.
Why? Because audiences already knew. Wing Commander III and IV were the hottest games in the galaxy at the time, an animated series was being prepared and the first script for a major motion picture based on the property was making the rounds in Hollywood. So what was wrong with the CCG? The answer there is that it had the misfortune to follow Mag Force 7's previous effort, a similar card game called Star of the Guardians. Star of the Guardians was an excellent game which was mechanically nearly identical to Wing Commander. Guardians was one of the first science fiction-based games to follow in the wake of the 'Magic' craze, with fantastic painted art and unique spaceship cards. Unfortunately, all of that meant that retailers over-ordered. Audiences were unfamiliar with the source material (a trilogy of books by Mag Force 7 founder Margaret Weis) and boosters languished on store shelves.
With unsold cases of Star of the Guardians cards, many retailers decided that audiences were not interested in either science fiction CCGs or these specific mechanics and opted not to make strong orders for Wing Commander (particularly damaging was the fact that software retailer Babbages, who had championed Guardians and seemed a natural place to sell Wing Commander cards, turned down Wing Commander.) The team at Mag Force 7, who were especially active on the early internet, were inundated by requests from desperate gamers eager to find the cards. And so, this very simple advertisement was born!