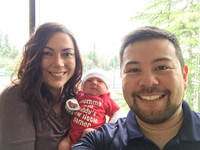 We have the happiest possible news to report today: congratulations to Chris and Lacey Reid on the birth of their daughter, Julianna Ella Reid! Julianna was born on February 9th, a brand new baby girl. Chris, Lacey and daughter are home and recuperating well. As Rollins would reply: "sitting pretty, sir!"
I have been honored to call Chris friend since we were teenagers posting on alt.games.wing-commander together. As dedicated Wing Commander fans and co-founders of this site, we've had many amazing adventures together... and now I am so excited to see him embarking on his greatest mission yet. Chris and Lacey are both highly intelligent, kind-hearted human beings who routinely bend the universe to support their gentle passions; they will make the best possible parents I can imagine.
Please join me in saluting Chris and Lacey and in welcoming the newest future Wing Commander fan to our ranks. I'm confident they'll have her checked out in Rapiers before she can walk... and, of course, that they know to keep her away from Flash-Paks!
Here are some pictures of the happy family: