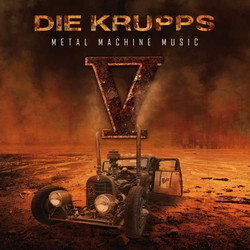 Could there have been new Wing Commander music in 2015? The answer may surprise you: a strong 'sorta!'
Back in 1997, Wing Commander Prophecy's abortive flirtation with a Cobalt 60-supplied industrial music soundtrack resulted in one of the stranger additions to Wing Commander's musical canon: a "Wing Commander Prophecy Original Soundtrack" that seems to be more industrial variety sampler than anything connected to the Terran Confederation.
Nevertheless, the soundtrack purported to contain some music 'inspired by Wing Commander Prophecy.' What did that really mean? It turns out that in addition to the two Cobalt 60 game tracks, three of the other groups' additions were inspired by the game: Gravitation Zero by Project Pitchfork, The Awakening by Das Ich and The Vampire Strikes Back by Die Krupps.
Jump ahead to 2015: one of these bands, Die Krupps, has just re-formed and is releasing their first album since 1998. And front and center on the album, V - Metal Machine Music? It's a newly-recorded, reworked version of "The Vampire Strikes Back!" It's anyone's guess whether or not anyone involved in the process remembers that the song was actually about the Confederation's mighty F-109 Vampire battling space bugs… but we know the truth!
V - Metal Machine music was released August 28, 2015 in the United States and Germany as a two-CD set (the second disc includes a demo of the Vampire Strikes Back.) It is also available via digital services like iTunes and in a deluxe edition box set that includes a sticker and a pair of fingerless gloves (really.)