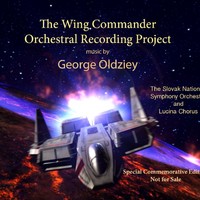 It's the beginning of April, but this is no joke! Former Origin composer George Oldziey recently tweeted this tantalizing message to Wing Commander fans:
I just entered the FIRST note of the first orchestration for volume 2 of the Wing Commander project! WC3 winning endgame! Stay tuned!
If you missed out on the first campaign to create a live recording of Wing Commander music, there are still copies available here. Continued support of the original album has helped to offset some higher than anticipated international shipping costs. It's also now helping set the stage for a second album! No further details are available yet, but George also shared this kind message from the conductor, Allan Wilson, that directed the Slovak National Symphony Orchestra in their amazing Wing Commander tribute back in the fall of 2014:
Many thanks for the CD you sent recently and what a wonderful CD it is too! Absolutely superb. Although it popped through my letterbox a week or so ago, the first chance I had to listen to it was in my car yesterday as I drove out into the British countryside, south of London, on a beautiful sunny (but cold) day on some nice quiet county roads. I recently bought a 5 series BMW with a really good sound system; so your music accompanied my journey magnificently. I'm sure the car was going faster than usual too!

I thought the CD was very well presented, great graphics and brilliant photos. This is really quite an achievement George and something you must, and rightly so, feel very proud of indeed.

I am looking forward to having the house to myself for a couple of hours so I can play it on my lounge sound system at warp 9.2 to get the full impact. Can't wait.

Well my friend, it brought back so many wonderful memories of our time together in Bratislava, both in the studio and in the bar! I sincerely hope we can do it again in the not-too-distant future.
So do we!