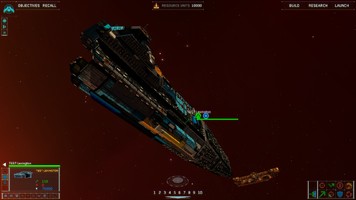 L.I.F. has big news for players of his WC mod for Homeworld Remastered. He's figured out how to remove the size limitation on ships, which will significantly boost the scale of his majestic fleets! While the supersized Kilrathi Dreadnought is now theoretically possible, he's taken his first stab at big ships with the TCS Lexington heavy carrier featured in Armada (pictured to the right).
Powered by the free market and the paying mod initiative (just kidding, that mod will never, ever, ever be paying, screw that idiocy), I hereby announce great news! I've found a way to bypass the size limitation for the models, and while I'm still tinkering with it, the first results are clear: IT WORKS!

I've got a fully functional model of the Lexington heavy carrier ingame. I still have to get the textures and everything else, but the roadblock has just been demolished. Which means that I can confidently say that the Kilrathi Dreadnought and all the Confed Fleet are now within reach, though with a lot of work needed. But they are possible!

Discover what is probably the biggest model to have been integrated in Homeworld 2. Not the most beautiful or the most outwards-detailed, but a massive model with a superb interior hangar with more than 81 k faces where everyone else was limited to 65535. I took some random textures I had for other units because the test was just to see if it would work at all without a CTD.
Additional modeling support is also coming from Lc4Hunter, who made some impressive progress on a WC mod for X3 a few years back. A promo reel for that project is below, which should give fans an idea of his talent!