Here's a cool image that turned up the other day. It's a list of the plane markings for the 28 American aircraft carriers serving in the Pacific during 1945. Every carrier had a unique set of markings painted onto its aircraft so they could be quickly and easily identified during operations. Eagle-eyed wingnuts may notice something familiar about the markings for the USS Shangri-La (CV-38).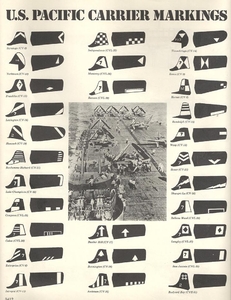 The lightning bolt is very similar to the one found on the Rapier II and Sabre flying off the TCS Concordia in Wing Commander II. Although, not every fighter that flies off the Concordia carries the lightning bolt. Ferrets bear a red Confed star. Epees bear no logo save their paint scheme which is similar to a rising sun. Broadswords and Crossbows have a gold star on their wings and the Morningstar has a red stripe running down the leading edge of its wings and vertical stabilizers.
While we can't report that the Shangri-La's markings were the inspiration for the ones found in Wing Commander II, a number of years ago we ran a story about an old World War II film that looked very similar to the original Wing Commander launch sequence. We now know that it did serve as the inspiration for the famous launch sequence. You can watch the World War II video here (6 meg xvid) and compare it to the Wing Commander sequence here.