Klavs has another monster Kilrathi warship to help your Wing Commander week along. In this case, it's the fearsome Rigakh class cruiser (be sure check out the link if you're not familiar with the ship!). It would be tough to mistake this ship for just a Ralatha! Klavs' accompanying fiction also poses an eerie fate for the most famous Rigakh, Prince Thrakhath's WW2 flagship Hha'ifra.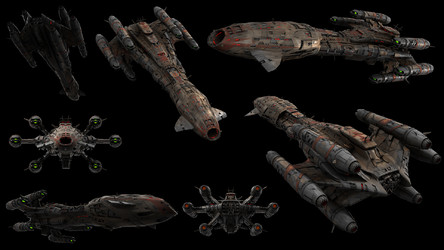 After the fiasco above Terra, Prince Thrakath transferred the majority of the Hha'ifra's crew to the Hvar'kann as the new dreadnought came online. Curiously, those that remained aboard the Hha'Ifra included some one hundred ninety-six selected crew members, engineering and flight wing personnel, and the entire central bridge crew. These were all experienced and blooded combat veterans who, by all rights, also should have also been transferred to the new flagship. The skeleton crew were left to their own devices aboard the empty ship, parked in a polar orbit above the gas giant Igrathi.

No requests for supplies, repairs, shore leave or landing clearance ever came from the Hha'ifra, nor were any such orders issued by the Imperial offices. No regular fleet command was ever authorized to resupply or issue movement orders to Hha'ifa, under the auspices of Prince Thrakath, the ship remained far outside normal fleet channels. So it was that nearly two hundred veteran spacers and a thoroughly modern heavy cruiser became a mystery hidden in plain sight, easily visible from the surface of Kilrah by low-powered telescope.

-Clarice Freiboten, Marooned By Loyalty: The Mystery of the KIS Hha'ifa.