Kyrgiannis has posted a gorgeous preview of Klavs' Dralthi as it will appear in the upcoming Wing Commander Flat Universe mod. The image below is posed, but it's using the in-game assets as they will appear during close up shots. And at 1920x1080, it makes a fantastic desktop wallpaper! To get a good idea of how the game will play, check out the most WCFU recent trailer. You can also find more pictures of the awesome fighter lineup here.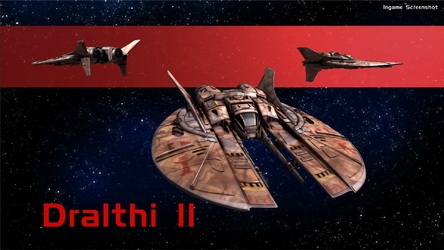 For reference this is how we adapted the Dralthi for in game use for the Flat Universe project.

The screenshot is directly from the game engine (this is how you see the dralthi fly by in cut-scenes and close-ups! - no post editing or effects added) and the conversion needed was minimal. The fact that the model looks that good in a game engine is a proof of how good a modeler Klavs is!

Excellent work with the models as always Klavs!