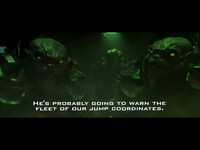 The website AlcoHollywood is continuing its 'video game movie month' with Wing Commander! If you're not familiar with the site, every week they create a podcast companion for a different film. Each movie then gets a custom drinking game and drink to go along with it. They've actually produced a pretty amusing review that's honest about the movie's shortcomings without stooping to cheap shots. One of the hosts is a long time Wingnut, and this helps provided some valuable context and behind-the-scenes info for many things. Check out the complete podcast here. Note there's an intro that goes until 4:50 if you want to cut right to the Wing Commander review.
Bonus fact: "Wings of an Angel," their specialty drink, was actually named before their staff mixologist knew that 'Angel' was one of the main characters in Wing Commander! Its color comes from the green hue that tints many of the special effects shots and Kilrathi scenes.
This week, we head into space with House-guest Nick Ostrem to talk about the 1999 space-sim adaptation Wing Commander! Based on the 90s space dogfight games of the same name, the film follows the fight to win a deadly future space war between the humans and the Kiilrathi, a race of space cats so deadly they live in dense green fog to hide the shoddiness of their rubber suits. Freddie Prinze Jr. and Matthew Lillard play newbie space fighter jocks who must get the job done amongst an international cast who is really too good for the cliched material they are given. Still, there's a strange earnest charm to the film that helps you through it, along with its slightly creative production design and incredibly standout score. This film is infamous for people buying tickets to it just to see the Episode I trailer and walk right back out of the theater - does the film deserve it? Find out while you enjoy our custom cocktail and drinking rules!

THIS EPISODE'S DRINK: Wings of an Angel

For this interstellar Star Wars-meets-Top Gun adventure, we decided to make a rum-based drink (as per naval tradition), that you can drink in the ship's bar between missions. The green honeydew, cucumbers and lime add some light, refreshing elements to it (while also evoking the look of a green laser beam), grounded by the more robust elements of the triple sec and the cilantro.

2 parts silver Barbados rum (infuse with green honeydew melon)
1 part triple sec
cucumbers
cilantro leaf
splash, lime juice

1) Muddle cucumber and cilantro in shaker.
2) Add rum, triple sec and lime juice in shaker with ice; shake vigorously.
3) Strain into Collins glass with ice; garnish with cucumber slice, sprig of cilantro and lime slice.

RULES:

1) Drink whenever a character gives another character an order (not a suggestion)

2) Drink every time you hear the word "Pilgrim"

3) Drink any time you see a close-up of a character in the cockpit of a fighter (to stretch the lower CG budget during fight scenes)

FINISH YOUR DRINK WHEN:

The following exchange occurs-
Blair: "DON'T YOU DIE ON ME!!"
Angel: "...What did you say?"
Blair: "I said... don't you die on me."