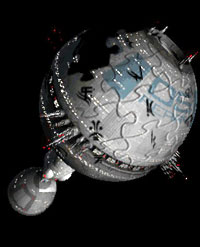 Did you know that we have a wiki that every Wing Commander fan can contribute to? The Wing Commander Encyclopedia is where you'll be able to find all kinds of real world information about Wing Commander. Wingnuts can find landing pages for all the major Wing Commander products from which they can explore various areas about each product. The encyclopedia area also contains categories like Images, where we are building the most extensive Wing Commander image archive ever, Cinematics, Behind the Screens, Downloads, and a number of others.
A reference from Super Wing Commander, the Terran Knowledge Bank is the new name for the main content area of WCPedia. This is where you'll find articles written in the style of a 29th century researcher stationed on McAuliffe VI. Users can find the major categories like Characters, Ships, Battles, along with dozens of others within the Knowledge Bank.
To prevent automated spam abuse, new CIC Wiki accounts need to be individually approved. When registering, be sure to put a line or two into the 'biography' box to prove you're not a robot. If you're in a hurry to have your account approved, you can contact us on IRC, via e-mail or on the Forums.