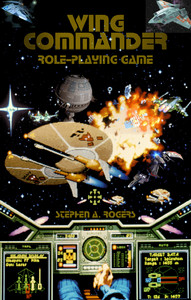 capi has achieved a huge milestone in the development of his wiki-based Wing Commander RPG! After two years of building rules, curating information and proofreading hundreds of pages of content, his WC RPG is complete. Fans of the project provided input throughout the process, and they were kept informed at every step of the way through detailed status updates. The complete rule set is available to download here (22 meg PDF). Even if RPGs aren't your thing, it's definitely worth checking the download out to browse through the incredible amount of Wing Commander work that's been assembled here - it's over a thousand pages of content! It's also possible to order a print of the PDF split into a Player's Guide and Gamemaster's Guide if you're going to set up some games and would like a physical reference. Pilots man your planes! (and much, much more!)
IN THE DISTANT FUTURE, MANKIND IS LOCKED IN A DEADLY WAR...

The Wing Commander Role-Playing Game brings the wonder and grandeur of the ground-breaking video game series to the gaming table. Compiled using information gathered over two decades by fans of the original series, WCRPG has everything you need to create your own adventures in the Wing Commander Universe including.

-A simple, yet flexible character creation system allowing unlimited numbers of possible characters based on eighty unique archetypes and full details on sixteen unique sapient races.

-Full creation rules for characters, vehicles, ships, communities, planets and more.

-Flexible combat rules allowing players to fight with as much detail and complexity as they wish.

-Guidelines on creating adventures, including a list of adventure ideas and procedures for developing plots.

-A compendium and primer to the Wing Commander Universe, including a timeline of events, details on over 200 characters, and a list of lifeforms.

--------------------------------------------------------------

After two long years of work, I can finally report WCRPG's completion; it went to the press about half an hour ago. A couple of quick notes for those of you who are planning on picking the game up: at the moment, the eBook version lacks bookmarks. This is because Acrobat was being persnickety about merging the files and I couldn't find a descent PDF merge program that left bookmarks intact but didn't leave watermarks all over the place. This is a problem I mean to address in the very near future; right now, I wanted to get something ready for y'all. I'm not convinced I got the covers right on the print versions (Lulu won't let you put in a custom spine and their default spine designs look like crap), but the content is definitely correct and in full. If any of y'all were planning on picking up the hardprint, you might want to wait until my proof arrives so I can report back about it (unless you can live with a cover image that might be slightly off-kilter, then by all means go right ahead).

The eBook is free, meant for all; the hardprints cost a fair chunk of coin, they're for people who want them. The prices listed cover production costs only; I'm making no profit on it and it doesn't include tax/S&H.
The Vespus campaign also continues to grow. This is the mini game inspired by the Concordia's last stand. Characters for it have been fleshed out somewhat, but capi is looking for suggestions to refine the missions at the CIC Forums.