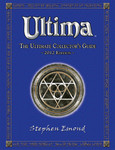 If you're into Ultima, Ultima Online or RPG's in general, the comprehensive Ultima Collector's Guide may be for you. In more than 800 pages, the author details hundreds of releases, maps, books, packages and various collectibles. Wing Commander veteran Warren Spector says "[it] is nothing short of amazing. If you're an Ultima fan or video game historian, stop reading now and just buy this." Notorious Origin collector Pix has a more detailed writeup online here.
For more than 30 Years the Ultima series has defined the RPG genre, from Akalabeth to Ascension to Ultima Online and Beyond. Lord British's enduring legacy will forever live in the hearts and minds of gamers around the world. The Quest of the Avatar is Forever.

This mammoth 826 page tribute to the Ultima series contains highly detailed information and pictures for 520 main releases, 286 books & collectibles, and 149 miscellaneous items. A grand total of 955 items from 24 countries across 6 continents!

In addition to regular entries there are comprehensive variation guides for each game. They provide side-by-side comparisons illustrating the differences between different maps, boxes, books, discs, etc. There's even some history & lore for extra flavoring.

Every game in the series is covered in exhaustive detail including Ultima I-IX, Akalabeth, Mt Drash, Runes of Virtue I & II, Savage Empire, Martian Dreams, and Underworld I & II as well as the many Collections & Compilations. Also included are bonus chapters for Ultima X, Ultima Online & Ultima Media.