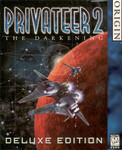 Forums member Lin Kuei Ominae spotted an error in our Privateer 2 cheats listing. Further testing revealed some odd behavior in the NAPALM cheat:
Ok, I've checked it ingame and you get 10 Nukes with each "Napalm" cheat. The first 9 nukes are full nukes, lasting the normal duration of about 3-4 seconds. The 10th nuke however lasts only a second, thus it doesn't do that much damage and can kill only very weak targets (most fighters stay alive with 25-50% hull intact).
Here are the correct cheats again. Open the navigation screen by pressing Alt-N, then press F. Type one of the following and hit enter:
NO TALENT (Invincibility)
REP ME UP (Repairs armor and shields)
NAPALM (10 nukes)
PETY PETY (Full afterburners)
CHILL OUT (Resets laser heat level to 0)
Cheat codes for other Wing Commander games can be found on their respective encyclopedia page.