Today marks the 205th anniversary of the Chesapeake-Leopard Affair of 1807. An event that greatly angered Americans and was one of the many factors that led to the declaration of war against the British in June 1812. Today's WC vs. History focuses on the first of the ships involved, the USS Chesapeake and its story and spot in Wing Commander lore.
The War of 1812 began on 18 June 1812 when the United States declared war on England for a number of reasons including impressments of American sailors and interfering with American free trade with France. This month marks the start of bicentennial anniversaries for the war's many engagements. Wing Commander has only one direct reference to the conflict, besides several ship names, and it comes from Admiral Tolwyn in Fleet Action:
"There was an ancient cautionary tale told in the service academies, the incident dating back to a war once fought between England and America. In an encounter between an American and British ship the commanding officer of the American vessel was mortally wounded, and the junior officer took him down below deck to the surgeon. In the short interval that followed all the other officers were hit and, without his even being aware of it, the junior officer was now in command. By the time he returned to the deck his ship had already been battered into submission and forced to surrender after barely putting up a fight. The junior officer was held responsible, court-martialed, and found guilty of dereliction of duty, a duty he was not even aware had suddenly come to rest upon his shoulders. The lesson was part of the tradition and backbone of the fleet - there is no excuse for defeat."
The battle Tolwyn was referencing was between the USS Chesapeake and HMS Shannon on 1 June 1813, 20 miles off Boston, Massachusetts. USS Chesapeake was one of the six frigates ordered by the Naval Act of 1794. These were the original six warships of the United States Navy. What made the Americans frigates effective was there speed and firepower. Armed with 38 guns, the frigates could engage most ships with an advantage. Those ships or battles it could not win through firepower, it could flee with its greater speed. The story of the USS Constitution fleeing a British squadron, through the use of rowboats in front and dropping out the anchor and reeling it in, is one of the most impressive escapes in naval history. Chesapeake was to have a less illustrious history.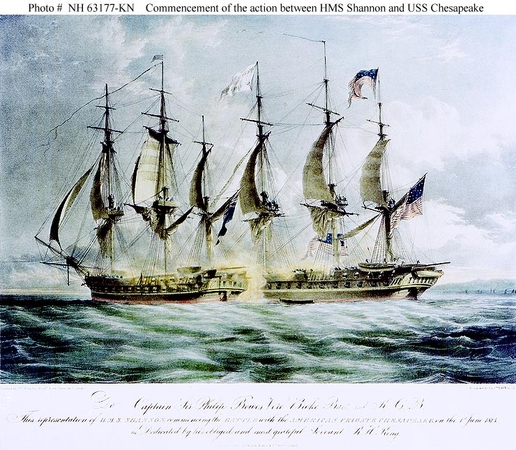 Read the rest of this article in the archive here.