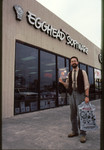 Yet another Wing Commander mention this week came from an interview with Warren Spector. Metro.co.uk caught up with the famous developer to discuss Epic Mickey 2. When talking about his early career, Spector confirms that some of his very first games were Origin titles such as Wing Commander, Space Rogue and Bad Blood. Check out the full interview here.
GC: Well, I think we're all glad you made that choice. Now, I'm afraid I'm relying on Wikipedia for this question but it seems like your first game, or at least first retail game, was one of the Wing Commanders, is that right?

WS: Ah, no. [laughs] I actually did some uncredited testing on the very first three gold box games from SSI, Pools Of Radiance and the others. The first thing I actually did in the electronic games world is I went to work for Origin and I worked on quests and adventures on Ultima VI, I did all the story flow-charting and dialogue writing for a game called Space Rogue. And then I did some work on a game called Knights Of Legend and then after that was Wing Commander. I worked on Wing Commander and a game called Bad Blood about the same time.