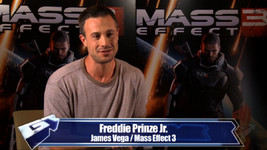 Freddie Prinze Jr, who portrayed Christopher Blair in Chris Robert's Wing Commander feature film has lent his voice to the highly anticipated Mass Effect 3. Freddie plays a soldier character that coincidentally bears the name of a classic Wing Commander locale: Jason Vega.
He's not the first Wing Commander alumni to transition to the Mass Effect universe. Adam Lazarre-White, who played Lt. Terrence 'Zero' O'Hearn in Wing Commander Prophecy and Secret Ops voiced the character of Jacob Taylor in Mass Effect 2.
While Freddie's movie career has been hit or miss... I actually think he sounds pretty good and much more matured in the short clip from Game Trailers below. Maybe we can get him to re-dub all his Wing Commander movie lines too.