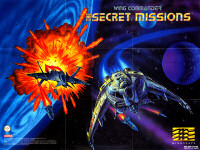 Of the Wing Commander CIC's new monthly Wing Commander chat session.
We are going to be holding monthly Wing Commander meetings on the CIC IRC channel #wingnut. The time of the meeting each month will be rotated to give our international Wingnuts a chance to participate. This meeting will be held at 1 pm EDT, which converts to 7 pm in Berlin. Next month we will move the time to accommodate our Asian and Australian wingnuts.
The last meeting was a huge success. All those who attended had a great time and learned quite a bit about the future of Wing Commander. This meeting our topics will change a bit, but there's still a lot of juicy intel for those who are interested.
So mark your calenders for October 22 at 1 pm EDT (7 pm Berlin) and stop by #Wingnut! We look forward to chatting with you all!