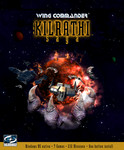 The big European Gamescom event was held in Germany last week, and all major publishers were on hand to promote their holiday lineups. EA Labels President Frank Gibeau also spoke to Computer and Video Games about old franchises coming back. This is particularly interesting in light of Chris Roberts' recent interest in returning to the series to make a new Wing Commander game.
"We do have a couple of old franchises that we're looking at right now... reimagining them and bringing them back," he said.

"We've got 25 years of good IPs and I've worked on a few of them in my career like Road Rash and the Strike series. So I have a strong affinity for a lot of the things we've done in the past.

"We kind of have a rule which is you've got to have a really good reason to bring something back - What can you do to it that makes it fresh and brings something new to the equation of the franchise?"