"Arnold Blair was the true model of an officer, gentleman and scholar. We celebrate his heroic and honorable life, and grieve for the loss of a heart so pure and a mind so brilliant at such an early age. On behalf of myself and all the others who had the privilege of working with Major Blair, I wish to extend my profound sympathies to his family." - Lieutenant Geoffrey Tolwyn, public statement on the death of Arnold Blair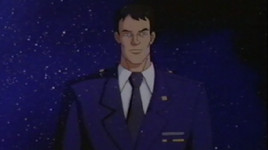 Arnold Blair was born on Earth in 2597, the son of Confederation Council member Melissa Blair. He had one sister, Jennifer. As a young man, he accepted a commission with the Terran Confederation Space Force Reserve. Arnold was a computer genius, but also had a strong sense of duty and a desire to honor his family's 750-year martial tradition. In college, he studied cybernetics, earning a Bachelor of Arts from the University of Kingston and then a Masters and Doctor of Philosophy from the Sorbonne. Blair was especially impressed by a particle physics course taught by Jebiah Omans. His graduate work earned a Golden Moebius for software design in 2620.
After graduating, Blair joined Sung Datasystems as a troubleshooter. He spent the latter half of the 2620s working on colonies in the Enigma and Argent sectors, where he earned two letters of commendation from Confederation Colonial Services. He also used his time on the frontier to earn his light space-craft pilot certification.
Towards the end of this period, Space Force officer James Taggart introduced Arnold to a beautiful young Pilgrim woman, Devi Soulsong. The two quickly married and established a home on Nephele. On 2630.168, Devi gave birth to the couple's only child, Christopher.
In 2631, with the advent of hostilities with the Pilgrim Alliance, Arnold's Space Force reserve commission was activated and he was ordered to Titan. He went on to serve a 25-month combat tour aboard the TCS Harrison, where he was certified as a double-ace with 13 kills (11 fighters, 2 capital ships). His years on the Harrison earned him two Blazes for Conspicious Gallantry. Meanwhile, Devi returned home to Peron with Christopher.
In early 2633, Arnold was selected by Midshipman Geoffrey Tolwyn to join the secret design team organizing the Confederation's Grand Fleet. He was made senior cyberneticist on the project and would earn a Conroy Medal and a Senatorial Commendation for his work designing software for controlling Grand Fleet maneuvers. He was also responsible for programming military access codes which would still be in use two decades later. In mid-2634 Arnold, now a Major, returned to combat aboard the TCS Foster where he earned three more kills and a citation for bravery.
Believing he would not survive the war, Arnold turned his cybernetic experience to creating a lasting gift that could express his love for his son. The result was Merlin, a holographic interface for Christopher's Portable Personal Computer created from Arnold's own proteins designed to operate as a guardian and advisor. Arnold specifically refused to craft Merlin in his own image, instead choosing that of his former particle physics teacher. Merlin was designed to permanently deactivate upon Christopher's death. As one of his last acts, Arnold wiped Merlin's flash memory of any information about the Pilgrims and the war.
As the battle came to Peron, Devi succeeded in having Christopher smuggled off world to live with his aunt Jennifer and uncle Samuel on Nephele. However, she could not escape the Confederation siege herself. With the arrival of the second Grand Fleet and the Pilgrim refusal to surrender, it was clear that the siege would become a massacre. Arnold, desperate to rescue his wife, stole a Merlin-class fighter and attempted to land on Peron to reach her as the battle reached its final days. He was killed on 2634.301.0900 by what is believed to have been a Pilgrim automated stratospheric defense drone. Devi also died in the fighting around the same time.
The Grand Fleet Information Office released news of Arnold's death the next day, but out of consideration for his survivors opted to spare his reputation as a war hero by claiming he had been flying a mission classified by Grand Fleet Operations. Both bodies were recovered and Devi was buried in a distant graveyard on Nephele. For four years Arnold would be hailed as a hero of the Pilgrim War. In 2638, however, the true story came out when a reporter published an article "War Hero's Secret Pilgrim Romance" which identified the Blairs by name.
Christopher Blair would remain on Nephele with Jennifer and Samuel, who lived as subsistence farmers. He had a difficult youth, first celebrated as the son of a war hero and then demonized as the child of traitors. Merlin was installed when he was five and he was given Devi's cross when he turned eight (he would not start wearing it for five more years). Some time later, his uncle was killed in a farm-equipment accident and his aunt left the planet looking for work. She eventually remarried and did not return, and Christopher spent the rest of his childhood under the care of his maternal grandfather, Abraham Truepath, and grandmother.
As he grew up, Christopher would retain only hazy memories of his real parents. Nevertheless, he chose to follow in his father's footsteps by joining the Terran Confederation Space Force. Among his few posessions when he arrived as a green lieutenant on the TCS Tiger's Claw were his mother's Pilgrim Cross, a photo of Arnold and Devi and the hologram his father had created for him.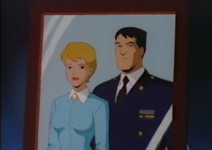 (Happy Father's Day to CIC staff members ace and AD and to WingNut dads everywhere!)