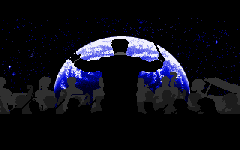 The Fatman wanted to remind everyone that Maz Sound Tools is still taking preorders for Immortal 4, an awesome upcoming album full of classic game soundtracks. Dozens of familiar tunes have been remastered, including Wing Commander music with drums played by original composer Dave Govett! Preorders are just an interest check (payment is not required), so head over if you plan to pick this up!
TheMightyFatMan: You can preorder game music CD "Immortal 4". http://www.maz-sound.com/Immortal/ For live Team Fat Wing Commander and Lemmings and more!

--------------------

The full-to-the-brim Double-CD set Immortal 4 features no less than 35 newly arranged songs (about 158 minutes) of Amiga game music. Most of them have been created by their original authors - trademark and good tradition of the Immortal series. We couldn't even stop them to play live-instruments, you'll become earwitness when Al Lowe himself (Leisure Suit Larry) is playing the saxophone, Jon Hare (Cannon Fodder) being back at the microphone and Dave Govett (Wing Commander) hitting the drums.

Numerous classics have been rearranged, such as Lemmings (Tim Wright), Turrican 2 (Chris Hülsbeck), Flashback (Jean Baudlot), Gauntlet 3 (Tim Follin), F17 Challenge (Nicola Tomljanovich) and many more. Exklusive new versions were contributed by legendary demoscene musicians, such as Romeo Knight (at the guitar too) and Jogeir Liljedahl.