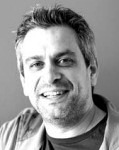 The New York Times is reporting that a Japanese social gaming company has paid a record-setting $400 million for iPhone gaming developer Ngmoco:
The new global platform will allow developers to aim for both Apple and Android users and gain access to both Western and Japanese customers, said Neil Young, the founder of Ngmoco — short for "next generation mobile company" — and a former executive at the U.S. game company Electronic Arts. Ngmoco's games, including We Rule, Godfinger, Coin Push Frenzy and Flick Fishing, have been downloaded more than 60 million times on Apple iPhones and iPod Touches.

"Whether you're a developer in Japan working on a Mobage, or you're a developer in the West making apps, you'll be able to work with us, and your games will be able to move across borders and move across devices," Mr. Young said.
What's the Wing Commander connection? In fact, this very website owes its existence to Ngmoco co-founder Neil Young. Mr. Young, then president of Origin, actually visited Chris Reid and I on IRC (DALnet, nickname neily) to offer the company's support in creating a new Wing Commander website that would help promote Secret Ops and future titles. He was incredibly kind to us while he was at Origin, offering constant support and even tickets to the Wing Commander movie premiere! A $400 million corporate sale couldn't have happened to a nicer guy.