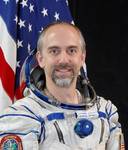 It's been one year since Origin founder Richard Garriott has returned from his trip to the International Space Station. He recently conducted an interview with the Austin American-Statesman to continue to advance the cause of private spaceflight. His new interests also include exploring the concept of suborbital space/sky-diving and a variety of conservational measures. Check out the full article here.
Although Garriott says he's not in the gaming industry at the moment, he has a "cadre of companions in the gaming industry who are already reforming as we speak."

There's nothing official to discuss yet, he said, "but there's no question my name will be reassociated back into gaming in the not-terribly-distant future."