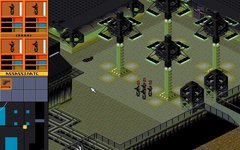 In February of last year, Electronic Arts announced that the company would be returning to one of its "most acclaimed classic franchises." In combination with certain rumors and comments made by EA's CEO, Wingnuts were hoping that Project RedLime would be the code name for a new Wing Commander title. While EA has yet to comment, a number of sources have been pointing towards the mystery game as a new title in the Syndicate franchise. Both series were recently co-stars in EA Replay for the PSP. In Syndicate, the player directs a team of four agents as they move through the world, shooting at anything that moves. The isometric perspective and the Research & Development aspect are reminiscent of X-Com, but the gameplay is real-time rather than turn-based. RedLime is being developed for the Xbox 360, Playstation 3 and PC.
Starbreeze working on new Syndicate title for EA

Starbreeze Studios is working with Electronic Arts on a new title in the Syndicate series, sources have confirmed to GamesIndustry.biz.

The studio, already responsible for critical hits The Chronicles of Riddick: Escape from Butcher Bay and The Darkness, has been working with EA since August 2007 on the title, before confirming a collaboration in February last year.

The game has had a working title of Project Redlime, and is due for Xbox 360, PlayStation 3 and PC.

However, the game isn't likely to see release until work is completed on Starbreeze's other collaboration with EA, for a new game based on Robert Ludlum's Jason Bourne character.

Syndicate's cyberpunk future first appeared in 1993 and was developed by Bullfrog Productions, a company co-founded by Peter Molyneux. Bullfrog was later acquired by Electronic Arts.

EA has not responded to requests for comment.