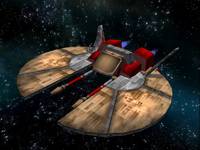 As the Standoff team presses on towards Episode 5's release, they've committed to more frequent status updates. There has been significant progress in regards to the audio this month, and they home to get further with the game's missions soon. Here's Eder with the latest.
What progress has there been this week?

The main thing has been voiceovers. Tempest's delivered another bunch of in-flight voiceovers. Other than that, Pierre has made some progress on his missions, as well as fixing (together with Pedro) some bugs in the OpenGL DLL.

Our voiceovers are now just 197 lines away from completion - we now have more than 500 voiceovers ready for this episode. In terms of voiceovers (well, and in terms of pretty much everything else), this episode is much bigger than the previous ones - even Episode 1, which contained the lion's share of the generic voiceovers for the Confed pilots contained 659 lines. That's quite an impressive chunk of work... and all of it done by volunteers! The folks who have recorded voiceovers for us along the way outnumber the actual core Standoff team by a ratio of at least two to one, maybe even three to one. And they're the people who really make the game what it is - without voiceovers, even the best-designed missions are just plain dull.

Even so, I sure wouldn't mind having some mission progress to report...