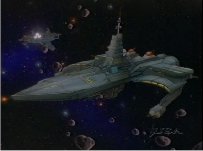 Sunday night's WCPedia conference was a huge success. The discussion helped clarify a variety of issues, and it also lined up a good deal of work that has to be done. A set of example entries are now being made to show off some of the new styles and systems that have been determined. Vinman posted a synopsis and uploaded a complete text log of the event. The team plans to gather again in #Wingnut this Sunday evening to review the example work and plan further. Read up on additional progress at Crius.net here.
Well, the WCPedia meeting came and went, and a good bit of progress was made. The last major effort on the WCPedia was based around the original Wing Commander. This time, it will be based around individual missions. From there, the encyclopedia will fill out.

We have decided to create example pages, paragons of our wiki-editing might that will inspire and set new editors straight on how pages are to be done. The timeline has been modified, with individual year pages redirecting to that day's entry on the main year page.