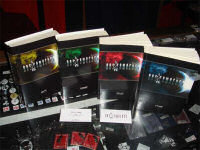 Deacan has firmed up the details for a printing of his second German Privateer 2-themed fan novel, Das Erwachen Stille. The book price is approximately 16 Euros, which is the break-even point for printing costs. Printing should begin in about a week, so the best time to order is within the next couple days. There's no need to hold off if you're missing the first title in the series either, since Deacan is trying hard to reprint Das Erwachen Sturm by this spring. You can find the first novel online (in German) at Crius.net here. A preview of the second novel has also been posted here.
If you like to get a printed copy of the 2nd novel from the "Erwachen" series of books, here is the way to do so:

Send an email to stb@sidiblume.de

Please include the following info:
- your (real) name
- a fully functional mailling address (!)
- ..including your town/land, state/province and country

The release is set for late January. We just want to see how many copies we should order overall. If you want more than one copy, please let us know! We can not yet tell you how much the print will cost. Our goal is anything under 16 € per book...

Stay tuned. More soon!