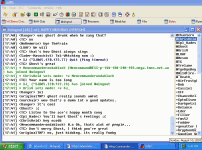 The Wing Commander CIC turns nine years old next month, and that means we're just three weeks away from our annual online bash! Since our last big party, we've gotten EA Replay, Wing Commander games on GameTap, more fan project releases and all the exciting stuff surrounding Arena, so there's lots to celebrate. With all the other exciting news that's been happening all year, this is actually our first formal announcement, but we've already been working hard to prepare for the event. Check out last year's updates here to get an idea of what to expect.

You're all invited to come and join us on August 10 in our #Wingnut irc chat room. The gathering begins at 7:00 pm Eastern US time (4:00 pm Pacific and 11:00 pm GMT). Beginning at that point, we count down for one hour before updating the website with a bunch of special updates. Since the event falls on a Friday night/Saturday morning this year, we expect a great turnout. The party is one of the best opportunities of the year to meet fellow fans, get involved with fan projects and win plenty of door prizes. The main event only lasts for a few hours, but Wingnuts are sure to be chatting away (and blasting away in Arena, Prophecy and Armada) throughout the night.
First time users are welcome to stop by #Wingnut through our web interface any time. See you at the party!