AD noticed that 20th Century Fox maintains a neat website about the Wing Commander Movie in its online catalog for television distribution rights. It's accessible by searching for Wing Commander at FoxNow here. The resulting page includes synopsis information, updated cast biographies and miscellaneous credits for the film. HBO and CineMax purchased the movie for numerous standard and high definition television broadcasts all throughout last year, but Fox is looking for a new distributor in 2007. The FoxStore has also lowered the price of Wing Commander on DVD to $7.98.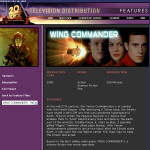 In the mid-27th century, the Terran Confederation is at combat with the Kilrathi Empire. After destroying a Terran base, the Kilrathi have seized a NAVCOM unit that can coordinate hyperspace to Earth. They've stolen the Pegasus Navicom A.I. device that enables them to "jump" behind enemy lines and destroy the Earth part of the universe. Freddie Prinze Jr. stars as Blair, a specially gifted "Pilgrim." Matthew Lillard plays Maniac. With Terran reinforcements planned to arrive two hours after the Kilrathi strike Earth, it falls upon the star fighter carrier TCS Tiger Claw to keep the Kilrathi distracted.

Based on the best selling video game, WING COMMANDER is a science fiction-war movie spectacle.