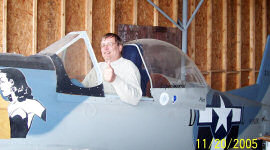 Online retailers have posted the back copy description of Wing Commander novelist Dr. William Forstchen's next book, Pearl Harbor. The story, co-written with Newt Gingrich, is the first in a series of alternative history novels of the Second World War -- a subject the authors had previously attempted with the critically panned 1945. It is set for a May 15th release, and will probably be accompanied by a high-profile book signing tour. It's worth noting that one of Forstchen's Wing Commander novels, Action Stations, is an allegory for the real world history of Pearl Harbor -- it will be very interesting to compare the two books.
After their New York Times bestselling series on the American Civil War, Newt Gingrich and William R. Forstchen now turn to the events leading up to the Japanese attack on Pearl Harbor and examine how different decisions might have profoundly changed the history that was yet to unfold. Pearl Harbor departs from conventional WWII novels—it focuses on the Japanese perceptions and decision-making that led them to seek a conflict with America, and offers an unprecedented look into their war strategy.

Poignant and rich with memorable characters—from the Japanese Naval Academy, to the British garrison at Singapore, and the Americans at Bataan— Pearl Harbor is the account of the day that started it all. Layering the historical fact with fictional characters, political motives, and Western/Eastern theories, Gingrich and Forstchen once again prove their strength as historians and storytellers.