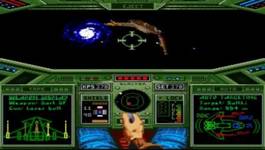 Several more reviews for EA Replay have appeared online. The ratings range considerably, but at least a few of the articles had the decency to highlight the individual games in the compilation. GameZone was one of them with a 7.0 overall score. Each blurb is short and to the point, but they give readers a basic idea of what to expect from each title. The reviewer likes Wing Commander, but has much more harsh remarks for Ultima.
Wing Commander
An original space shooter, Wing Commander thrusts you into space from a first-person perspective. The game also had an element of point-and-click storytelling. It's fun but jerky. Remember the technology that's at work here, and what few options developers had back in the day.

Wing Commander: Secret Missions
More of the same, and if you loved Wing Commander then or now, what could be better?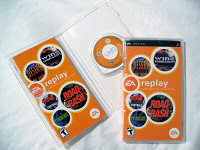 eToychest gives the overall compilation a 60%, and they also do decent job of justifying their score with comments about all 14 classics. At least you get the impression that the reviewer played each game in the pack when they do this.
Gaming Age also had a positive article. They assigned a B- score, but the comments they make seem to rate a bit higher to me.
This isn't your typical retro slop either, EA has pulled from their fans wish list to bring us not only a great nostalgic collection, but one that brings back old favorites that gamers have wanted to see for many years now. If this collection does well, who knows, a next generation version of one of these classics could be a serious cash cow for the company.

Each emulation is perfect and playing them with the PSP analog or direction pad is flawless. It is true that younger gamers may not "get" these titles, but those of us who were around when they first hit store shelves will appreciate what nostalgic beauty they delivered. Top it all off for a price tag of under 20 bucks and just for the kick of re-living the past, you can't pass this one up. A must buy for nostalgia buffs.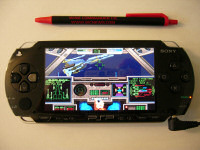 GameSpy is the runt of the litter. Right out of the gate, the reviewer has sarcastic comments to make about Ultima, Syndicate and Wing Commander. He takes issue with the fact that each game is a port of a Genesis or Super Nintendo version, without giving any explanation for how he'd expect their PC counterparts to work on the PSP.
But special scorn should be reserved for Wing Commander and the expansion Wing Commander: Secret Missions. These all-time PC classics were reduced to near-unplayable messes on the SNES, yet those are the versions EA chose to preserve on Replay. Fantastic.
As someone who played the SNES version of WC1 more than almost anything in 1992-3, I'd have to disagree. The rest of the set gets back-handed compliments to earn a 30% score. You can't win 'em all I suppose. Metacritic also says the print reviews (previews?) of Game Master and PSM3 Magazine in the UK were 48 and 57 respectively.