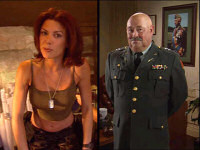 Electronic Arts has some exciting news -- Full Motion Video is back, in a big way! Command and Conquer 3: Tiberium Wars won't just feature the return of Kane... it will feature the return of the big-budget Hollywood cutscene! From their press release:
Electronic Arts today announced that the highly-anticipated Command & Conquer 3 Tiberium Wars™ (C&C 3) game will feature an all-star celebrity line-up for its high-definition, live action video sequences from critically-acclaimed television series such as "LOST" and "Battlestar Galactica," blockbuster films such as Star Wars The Empire Strikes Back and The Return of the Jedi (1980, 1983), Top Gun (1986), Starship Troopers (1997), and The Wedding Crashers (2005), and a former Miss USA pageant winner. The unparalleled, diverse cast includes Tricia Helfer, Josh Holloway, Michael Ironside, Billy Dee Williams, Grace Park, Ivana Bozilovic, Shauntay Hinton, and more!
Several news sites' takes on the announcement, naturally mentioned Wing Commander: GameSpot and PALGN mention the series as an example of that great bygone FMV era... and GameDaily says that "[C&C3] is one of the largest, most well known casts to act live-action in the history of games, rivaling that of the Wing Commander series." We're not sure about that... but it's great to see anyone investing in live action again -- and even greater to have it be Electronic Arts! A new Wing Commander doesn't seem so impossible now.