And, of course, the crown prince of Wing Commander fan projects, Standoff, has something for us! Check out this amazing wallpaper: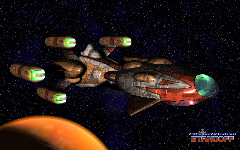 But wait, there's more! Their news site has been updated with some exciting information:
the losing path missions for episode 4 are approximately halfway done. It's just that by now, we should be nearing the end of the episode, and that doesn't seem to be the case . Rest assured, however, that we are still here, and we still very much hope to have Episode 4 completed this year.

Finally, I've added one new screenshot. Every once in a while, people ask us whether there will be more missions with ship choices in Episodes 4 and 5. This screenshot, we hope, answers that question once and for all - yes, there will be more such missions, and it won't be just your standard fighter vs. bomber choices, either. In a few missions, you will get to choose from no less than three ships - the Rapier, Sabre, and the Crossbow.