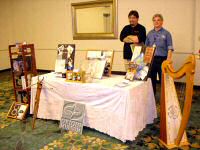 EA Mythic has announced it will be holding a convention his fall to celebrate the five year anniversary of Dark Age of Camelot. The event will be held at the Rio Hotel and Casino in Las Vegas on September 29 & 30, 2006. Early registrants will receive free copies of the upcoming Dark Age expansion and all attendees will get a chance to network with the developers and meet fellow fans. EA acquired Mythic Entertainment last month and has been sponsoring fan meet-ups since the first Ultima Online Worlds Faire in 2000. They continue to host occasional UO Town Halls. Even the short-lived Earth & Beyond massively multiplayer space sim got a birthday party
Attendees will have a chance to meet fellow players and the developers, as well as get the inside track on future developments for the game. The Roundtable will feature Dark Age of Camelot -themed activities including LAN play (sponsored by NVIDIA and NEC Display Solutions of America, Inc.), open discussion forums with the development team, guest speakers, and contests.

Players who register before August 25, 2006 will receive a beta account for the next Dark Age of Camelot expansion, a free copy of the expansion and an exclusive in-game item.