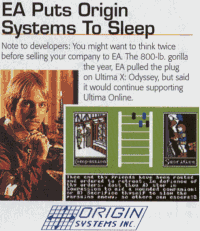 GameSpot is reporting that the Austin, Texas branch of NCSoft has just laid off 70 employees, approximately one quarter of its local work force. Although the company announces that none of its in-production games lost people, it also says that a slowdown in future releases forced the reduction. This means that Richard Garriott's Tabula Rasa seems unaffected for the time being. The company currently supports Lineage (1&2), City of Heroes, Guild Wars and Auto Assault. It seems likely that the layoffs related to these games as well as support and administrative staff for US operations of the company as a whole. The Austin game development market has been in flux for the last couple years since the formal move of Origin to EA LA in 2004. Since then, developers such as Digital Anvil and Ion Storm have collapsed while new studios such as Bioware Austin and Junction Point have opened up. Spacetime Studios, a team recently founded by a number of former Wing Commander designers, entered into a publishing deal with NCSoft earlier this year.
The company's prepared comment sought to cast the layoffs as a response to vagaries all publishers in the online space are subject to. "The online games industry is one that is continually changing with the scaling up and down of business based on product launches and product development schedules," the statement read in part.

But it also points to a more localized reason behind the layoffs--a slowdown in upcoming NCsoft launches: "As the company continues to grow its live products and prepares its next set of major online game releases for later in 2006 and 2007, the company sees a slowdown in its launch pattern and the need to streamline its business."