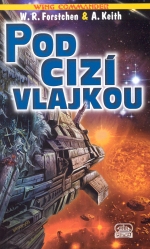 psen noticed that Wing Commander False Colors was finally released in the Czech Republic this week by the Poutnik Knihy Publisher. It's likely that Slovakia and other nearby countries have it too. The Czech site Fantasy Planet officially announced the release November 10. The novel's cover art was made by Jan Patrick Krasny. His website contains the original art for the other Slovakian WC novels as well. You can buy this new False Colors here for 399 Sk. A special bundle with the first five books is 1319 Sk. Shooter translated the Czech text on the back, which seems to itself be a translation of the English back cover text.
Sixth book in the Wing Commander series.

The attack on Kilrathi home world has succeeded. A whole planet has been destroyed, including the emperor and his warlords. Surviving Kilrathi, on ships or colonial worlds, were demoralized and have asked for peace. The race of cat warriors ceased to present threat for Earth and its colonies. Thirty-five years of war has ended and finally peace reigned throughout the galaxy. Or at least the humans thought…

But the reality is different. There remained independent Kilrathi warlords – rulers with large amount of warships and weapons. Some loathed for the vengeance on the apes, which destroyed their holy homeworld, and some intended to found their own empires. While the others simply became pirates and attacked human colonies on their whim. Meanwhile on the Earth, humans and their leader, tired of war, ignored the news of rising Kilrathi aggressiveness. They preferred to look into the peaceful and prosperous future.

But that was only a small pause before the coming of new storm…
False Colors was released in the US in December 1998. A prologue chapter and general information on the book can be found here. Anyone still missing the novel can find it for as low as a few dollars at Half.com. The book originally shipped with an embarrassing mistake. The author's brother's name was incorrectly printed on the cover. It was co-written by William Forstchen and Andrew Keith. Unfortunately, Keith died in 1999.