Jesus noticed that IGN's Classic Games feature credits a Wing Commander title for influencing gaming history. Wing Commander 2 placed in the Top 50 during the 2005 edition of this ranking. Wing Commander 1, 2, 3 and Privateer placed highly in many similar features around 1999 and 2000, but the gaming industry has changed significantly over the years. It's nice to see Wing Commander is still consistently recognized for its impact today.
Wing Commander II refined the formula set by its predecessor and offered a space opera experience second to none. Full of genuine characters, intense action, and dazzling graphics, Wing Commander practically redefined space shooters when it shipped in the early 90s. Before Wing Commander III set the benchmark for "interactive movies" with its FMV sequences and use of real actors, Wing Commander II told an awesome story of sacrifice, bravery and camaraderie through great writing, in-game speech, and some of the best dog fighting you'll ever find in a PC space shooter. A classic in every sense of the word.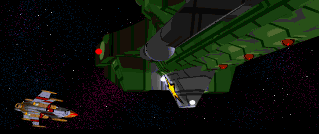 Feeling nostalgic? You can download the Wing Commander 2 intro here.