Zalmodegikos has updated his interactive flash Wing Commander universe map. It's quite a neat program. You can turn certain jump lines on or off, zoom in, search for specific systems and more. There are still many systems that need to be added, but a few test sectors are available to test it out. Give it a try here and help Zal with your feedback here.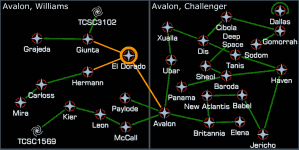 Many hours have been invested in improving the overall performance and preparing the map for the hundrets of systems thare are going to be soon added. You will need to activate and deactivate the following functions, 'scroll', 'zoom', 'select' and 'adv.' (advanced). Don't forget to check out the 'adv.' (advanced) menu.

Give it a spin and please leave a comment here so I can further improve this project for you. Thank you.