The Wing Commander Movie will be showing on the Sci-Fi Channel tomorrow morning at 9:00 am US Eastern/Pacific. It's a rare Saturday morning showing for the film. Star Trek Generations and First Contact will be on directly afterwards for anybody interested. The next showing will be on July 18 at midnight.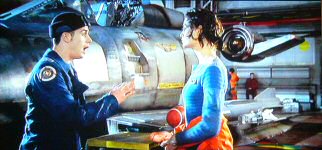 Freddie Prinze Jr. and Saffron Burrows star as elite fighter pilots on the front line of a 27th-century war for interstellar domination.
Speaking of Easter Eggs, there's a tiny one on the Wing Commander Movie DVD. Hitting the right arrow and highlighting the radar circle will bring up a credits scene for the company that designed the DVD menus.