Marc had an interesting idea for a hybrid ship design.
I got this inspiration last night on the Ranger class carrier of WC3. If its supposed to be really old, then it might have originally been similar to ships of the WC1 era. So I messed with the bridge and the launch bay and - blah blah blah. Now I've come up with something... interesting. I think I like it but, and this is why somebody on the other end is reading this (I hope), I need opinons.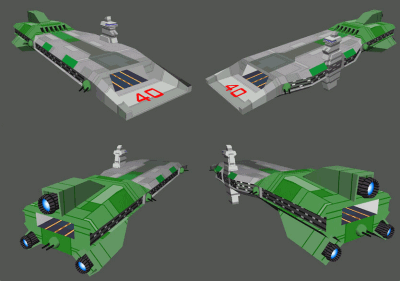 Starting with a ship similar to the TCS Victory, the conning tower, turrets, flight deck, engines and colors were meshed with a ship similar to the TCS Tiger's Claw. The result plays tricks on your eyes and makes you wonder how plausible the slight modifications would be. If the two ships were ever brought together in the future, I'm certain that some aspects would be joined in this manner. Marc is looking for feedback, so feel free to click the "Discuss" link below and post some comments.