Cyberion has polished up a recreation of the Escort Carrier featured in End Run.
Helping out Raptor from "Holding the Line" web novel. I've modeled this carrier from the art found on the "EndRun" novel's cover. This model might be updated in the future to make it as realistic as possible. I will add some nurnes, details and create better texture maps.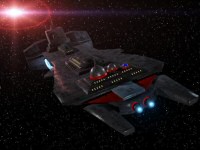 It already looks pretty neat. You can find the lightwave file here.