In a move which many claim is "long overdue", Electronic Arts has announced that in order to save space all employees will be shifted four elements up on the periodic table. At press time, EA's workforce is primarily carbon-based. All current employees will be given the option of either conversion to a Helium-based matrix or recieving a small severance package.
Electronic Arts recently relocated all of their subsidary companies to a tiny farm house in Redwood City, CA. This subsequent atomic reshuffling will save money, space and, claims PR representative Correy Pennington, have some unique positive side effects. "Plenty of Helium means plenty of balloons! And balloons mean *fun* -- just like our games!"
The following chart explains the dynamics of EA's plan: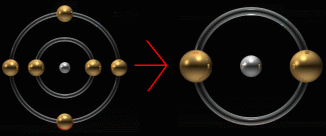 The move will not affect EA executives or stockholders, whose super-dense brains make them immune to both physical science and common sense.