Matthew Arcilla has put together a personality test pertaining to the characters of Wing Commander 4. It only takes a few seconds to fill out, so everyone should go and see who they are. You can find the test here.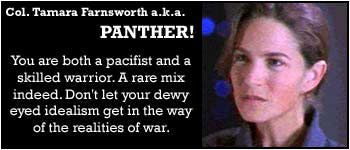 I'm an old Wing Commander fan and regular visitor and I thought you guys might like to know that i just finished an online personality test based on Wing Commander IV. I'm sure fellow fans such as myself would love to indulge in 30 seconds of frivolity, so there.
I'm actually Pliers.