Run Wing Commander 4 DVD Without The DXR Card
This is very exciting news! Chat Zone poster gulikoza has developed a patch that enables the beautiful Wing Commander 4 DVD version to be run in Windows without the Creative Labs DXR decoder hardware. All that is required is unzipping the tiny 32 kb patch into the WC4DVD directory and setting the game's executable to Windows 98 compatibility mode. The folks at Crius.net have been working out the bugs for the last week, and almost everyone with Windows 98 or Windows XP should be able to use this to run WC4DVD properly. gulikoza has created a website with additional information here and you can post additional questions at Crius. We also have a couple samples of the video quality up for download.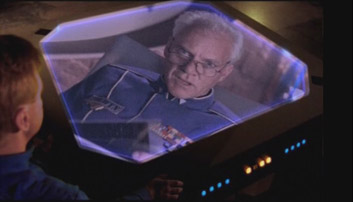 Don't forget that our ftp server limits the amount of simultaneous connections, so you may have to download the patch and the DVD video clip separately. If that still doesn't work, it's possible that your download manager or browser settings are causing some sort of conflict. Try a different browser or download manager (without file segmenting turned on). gulikoza also has the patch mirrored at his website.